A young Asian woman wearing a white robe and head covering cradles an elderly woman's feet that are horribly deformed by leprosy and gently washes them in a bowl of water.
The old woman can scarcely believe someone is touching her, caring for her, loving her. Most people would recoil from this woman and avoid the leprosy colony where she lives. The colony is a place of disease, disfigurement and disability. Its residents are used to being treated as outcasts by others and viewed as cursed. They are used to their deformed bodies being seen as objects of ugliness.
But to the young woman dressed in white, these feet are beautiful.
She and her companions, known as Sisters of Compassion, come here regularly to clean wounds, cut hair and trim nails. They see beauty amid the truncated limbs and deeply scarred bodies that few are willing to look upon, let alone touch.
As locals and neighbors, the Sisters fully understand the culture and customs into which they pour their compassion. They appreciate and respect the historical and religious traditions, speak the local language and know the nuances of the dialect. And they're specially trained in leprosy wound care and family counseling.
To all this, they add the unspoken language of Christ's love.
"We do all this because of the love of God," says Geeta, one of the Sisters trained to care for people with leprosy.1
No one else could have the impact these women are having on their own people, often their own neighbors. Their roots of love go deep, and their branches of compassion reach into places where no one else goes.
While their long white robes, known as saris, might appear like unusual attire to Western eyes, the significance in South Asia is huge. The Sisters' simple handspun uniform mirrors the traditional sari once worn by the lowliest of servants in Asia. It says to the old woman whose body has been disfigured with leprosy: "I am here to serve you. I see your worth."
Mungeli Das, who contracted leprosy as a little girl more than 50 years ago, was treated for five years, then cured. Because of the deformity left by the disease, the leprosy colony has been her home for decades. She clings to the help and hope that the Sisters of Compassion bring her. The Sisters follow the example of Jesus who, according to the gospels, touched and healed those, like Mungeli, with leprosy.
"Before the Sisters came, there was no one to help trim our hair, cut our nails or help us clean our houses and encourage us," Mungeli says. "The Sisters help us by cleaning our wounds, and they make us happy and encouraged [us] all the time."2
In places where outsiders, foreigners and foreign mission workers are prohibited or restricted, national workers and national missionaries have much more opportunity to serve. These women and men are welcomed and considered trustworthy counselors and friends of the community.
Outsiders may come and go. But national missionaries, such as GFA World's Sisters of Compassion, stand the test of time.
"Each woman who serves as a Sister of Compassion is full of sacrificial love, just like Jesus," explains GFA World. "They do the most unglamorous things, such as bathing someone … or feeding people who've been affected by leprosy [and] no longer have any fingers [to] feed themselves."3
Unsung Heroes of the Frontline
While Western workers often venture to far-flung places and do amazing things, it's the unsung heroes of the frontline—the local, indigenous people—who consistently make the greatest impact and bring true transformation to their own communities.
In the past, missions trailblazers like William Carey from England in the 1700s, and C.T. Studd in the late 1850s and early 1900s, paved the way for swarms of foreign missionaries and humanitarian workers, mostly from Western countries.
But the tide has changed.
National workers are the "new pioneers" of the 21st century, and they're proving to be an unstoppable compassion force.
"[National] workers toil to bring healing and hope," GFA World says. "They touch thousands of lives with the tangible love of God through slum, leprosy, medical and disaster relief ministries. Thanks to them, men, women and children who otherwise might have gone without help … have been blessed with much-needed aid."4
Beauty of Local Mission Workers
On a worldwide scale, according to the Center for the Study of Global Christianity (CSGC), there were 430,000 foreign mission workers overseas in 2021, compared with 13.2 million national workers (local citizens).5
That means national mission workers—those serving within their own culture and nation—now outnumber foreign workers by more than 30 to 1.
The CSGC predicts the number of national mission workers globally will explode to 17 million by 2050, while the number of foreign workers will increase to 600,000.6
To be sure, Western Christians are still drawn to overseas missions in large numbers. But the exporting of expatriates to distant foreign fields can come at a high cost, potentially hindering progress.
In extreme cases, the quest of well-meaning foreigners with a zeal to exercise their faith and do good can end in tragedy, as in the headline-making case of a U.S. mission worker in 2018.7
While attempting to make contact with the "unreached" indigenous people of North Sentinel Island, an isolated island in the Bay of Bengal, it's believed David Allen Chau was speared to death. As of the date this article was published, his body had not been recovered.
Chau's death was tragic and highlights the very real dangers facing non-nationals in remote areas. But it's not only the safety of foreigners that's an issue. It's also the cost in dollars of sending Western workers and keeping them in their overseas assignment.
Counting the Cost of Foreign Workers vs National Workers
Missions Fest International, an annual global missions conference, spotlighted the financial cost of "sending" a Western mission worker compared with the cost of supporting a national worker in a provocative article on its website titled "Should We Stop Sending Missionaries?"8
While stating there's still a great need and important role for foreign workers in many parts of the world, the article points out it typically costs more than $50,000 a year to support a Western family in a developing nation such as Africa and Asia—an annual sum that could help support more than 50 national workers, the article says. For example, based on my personal experience in Uganda, an American family of four living in Africa might pay $1,000 a month for expat health insurance coverage that includes emergency medical evacuation. Because of security issues, they might have to live in a secure compound at high rent and pay hundreds of dollars every month for guards 24/7. Legal paperwork and visas can cost hundreds, even thousands, of dollars every year.
Run the numbers and it's perhaps no surprise, then, that national workers—willing and able to live far simpler and free of immigration restrictions—are increasingly seen as a wise investment.
More than 140 organizations "are now built on the premise of gathering and sending money [to support national workers], not people," the article says.9
While short-term overseas missions trips still play a huge role in the West, the merit and value of supporting local, native workers over the long haul has become widely embraced as the most effective approach in the quest for the "holy grail" of missions: to bring long-term, total transformation to impoverished communities.
Certainly, over the past couple of decades, it's become a trend in Western nations for people, especially young people in their 20s, to travel to places in Africa, Asia or South America to volunteer in orphanages, children's homes and the like.
Photos of young Westerners cuddling babies and surrounded by excited children in Africa and Asia have flooded social media and reinforced the so-called "white savior" label, often unfairly attached to compassionate individuals from the U.S., Canada, U.K. and other wealthy countries who simply want to make a difference in the world.
But now, it seems, this missions phenomenon—undoubtedly impacted further by COVID-19 travel restrictions—could be in decline.
An article in The Atlantic put it like this: "Among the new generation of Western Christian missionaries, the so-called 'white savior complex'—a term for the mentality of relatively rich Westerners who set off to 'save' people of color in poorer countries but sometimes do more harm than good—is slowly fading."10
Looking 'Inside' for Lasting Solutions
Instead of looking to the West, many humanitarian and missions groups are looking "inside," turning their attention to the vast pool of dedicated and talented workers within the nations in which they serve. They're convinced that national workers are the key to lasting transformation.
It's an opinion shared by development specialist Steve Corbett and economics professor Brian Fikkert, co-authors of When Helping Hurts: How to Alleviate Poverty Without Hurting the Poor and Yourself.
"God has blessed many of these indigenous workers with amazing talents and strong passions," they write. "They often minister long term in environments that would be a deep challenge for even the most impassioned outsider. Furthermore, these indigenous workers' understanding of local cultures and languages makes them far more effective than the outsiders could typically be, either in the short or long term."11
"Moreover, these indigenous workers usually do this work at salaries that are far below mainstream North American standards," they said. Corbett and Fikkert continue to discuss how one highly respected organization equips and manages national workers across Africa at a total annual cost of $1,540—a total that, according to the authors, includes the worker's salary, bicycle, backpack, shirt and bedroll.12
These are facts that the Church in the West needs to accept, they say: "The North American Church needs to more deeply appreciate the fact that Christians at home and abroad are ministering within their own nations, people groups, and communities at a large and growing rate, particularly in the [developing world]"13 .
One national pioneer worker in South Asia put it like this:
"This is what I have been trying to say to missionaries from abroad. You have been offering the water of life … in a foreign cup, and we have been slow to receive it.
If you will offer it in our own cup—in an indigenous form—then we are much more likely to accept it."14
The 'T' Word: 'Transforming' Communities
"Transformation" is a buzzword widely used in humanitarian, community development and missions circles, and it means different things to different people. Generally, it refers to a rebirth of a community, a revival of health, wellness, vitality, prosperity and hope. For faith-based organizations, everything is wrapped in God's love. It's the goal of all workers who follow Jesus—foreign and native—to bring transformation.
But what does transformation really look like?
Global CHE Network builds what it calls "transformational" movements within thousands of villages and communities across more than 130 countries by equipping and training national workers to spread health, good news and the love of God.15
The organization tells the following story. In a small town in the Philippines, the jail sits empty, and the local attorney had to relocate because he didn't have any clients to defend. The streets are spotless with barely a scrap of litter in sight, and the town sign reads: "Welcome to Bingawan, a Christian Community."
It wasn't always like this in Bingawan. The town used to have its share of trouble, crime and vice. But when the local people—impacted by Christ's love and a revival of hope—decided to make changes in their own lives, the entire town underwent a profound transformation. Gambling joints closed, crime plummeted and the guards at the local jail found themselves staring at empty cells, according to Global CHE workers.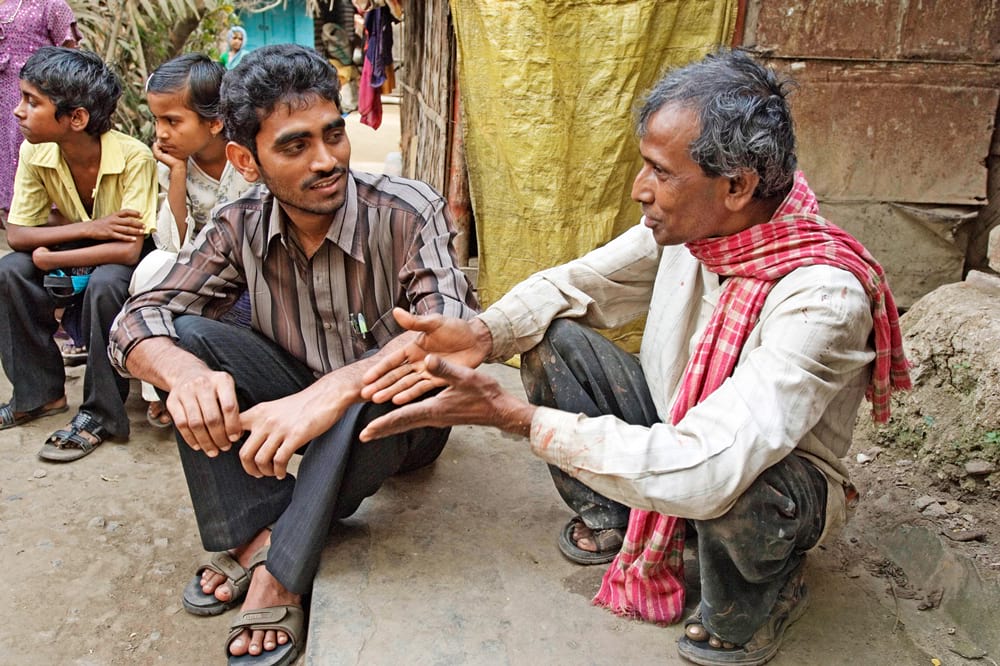 Other humanitarian agencies also tap into the strengths and connectivity of national workers, putting already-established local networks into action in the pursuit of lasting transformation.
One inspired approach, known as the Care Group Model, has revolutionized the health and lives of hundreds of thousands of impoverished villagers in Asia and Africa.
Launched by World Relief, the Care Group Model tackles community problems at the grassroots level and operates in the heart of the community by training groups of local volunteers to confront the most serious health threats.16 These volunteers, which are nearly all women, each share their newfound knowledge with 10–15 of their neighbors, spreading lifesaving know-how in the most effective way: mother to mother.
In one area, surveys revealed Care Groups:
Reduced the number of malnourished children by 45 percent.
Improved access to trained birth attendants, saving lives.
Increased the number of household latrines.
Significantly expanded the use of bed nets to prevent malaria.17
The proven impact of the Care Group model, which is sustained and fully operated by national workers, is phenomenal. Across regions containing hundreds of villages, the local volunteers achieve "saturation coverage," meaning every household is reached.
Thoeun, a local health educator in Cambodia, says if a child fell sick, villagers often suspected supernatural causes and looked to supernatural remedies. Growing up in the culture, Thoeun understands the way the villagers think. But the Care Group introduced her to a new way of thinking about health—and showed her the love of God. The combination of education, care and good news changed her life, she says, and since then she's encouraged hundreds of others.
GFA World national workers have transformed lives in more than
12,000
parishes across South Asia.
"The local people wonder why we're so positive and friendly. … They ask us why," Thoeun says, explaining it opens the door to tell them about God's love.18
While different faith-based and humanitarian groups have made a big impact on communities by recognizing the strengths, commitment and drive of local workers, perhaps no agency has done more than GFA World. Its national missionaries have transformed lives in more than 12,000 parishes across Asia, in nations such as Sri Lanka and Bangladesh.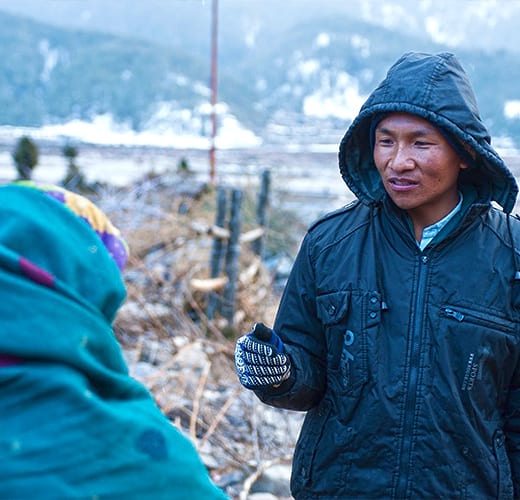 'Native Shockwave'
When GFA World's K.P. Yohannan launched his best-selling book Revolution in World Missions in the mid-1980s, its groundbreaking message sent shockwaves through churches, missions agencies and humanitarian organizations that were used to operating according to the traditional norms of Western missions endeavors.
Yohannan's vision helped turn the traditional Western "missions sending model" upside down, instead advocating for people in the West to support and train national workers already in place. Yohannan claimed local workers were better suited to do the work of transforming communities across Asia. They already lived at the same level as the local people: working alongside them, living among them in the villages and slums, dressing the same, speaking the same language, eating the same food, drinking from the same well.
Jager is one such worker. Trained and supported by GFA World, Jager ventured to villages in a difficult area of South Asia, determined to show people the love of God. Jager and his wife lived in a one-room mud house, like the local people, and cooked their food on an open fire.
National workers, Yohannan reasoned, understood the local culture and customs, were more easily accepted and could go where outsiders were not able or permitted to travel.
In effect, Yohannan's dream is to see thousands of community-transforming national workers across Africa and Asia, equipped with the training and resources to break extreme poverty and offer hope to those in despair, all in the name of Christ.
"Filled to overflowing with the love of God, these national workers are passionate to share that love with everyone they meet," Yohannan said. "Ultimately, the only true lasting transformation can happen through Christ who brings hope for this life and the life to come." Yohannan continues, "While we must care for the hungry and suffering, we must not forget to share the authentic message of redemption through Christ. The holy Scriptures tell us in Mark 8:36 'What shall it profit a man if gains the whole world and loses his soul.'".
A criticism sometimes leveled at national workers in developing nations is that they lack quality, formal training. The inference is they're not up to "Western standards" of education and knowledge. But groups like GFA World don't expect national workers to operate on passion and enthusiasm alone. Each worker undergoes extensive, in-depth training and preparation for their role of service.
Following a three-year period of intense training, these courageous national missionaries set off into "uncharted territory" where often no missions or humanitarian agency has gone before, bringing clean drinking water through "Jesus Wells" to the remotest villages, launching child sponsorship programs for children who never dreamed they'd be able to go to school, and fighting poverty with vocational training, sewing machines and fishing nets.
Compassion Sweeps 'Forgotten Islands'
In what are known as the "forgotten islands" of South Asia, remote outposts dotted along the shoreline of the Indian Ocean, villagers still use oxen as a mode of transportation and wash themselves, their dirty clothes and their dishes in the same stagnant ponds they drink from.
No clean water. No schools. No medical clinics. Life seems hopeless—and improvement seems impossible—for many of the "forgotten" people of these islands. But a team of young GFA World national workers was changing all that. Traveling on rickety boats from island to island, these committed young workers brought hope and good news to islanders on the brink of giving up.
"It is not we who have been doing ministry, but it is God who has been doing ministry through us," said group leader Taj, whose team earned the trust of hundreds of villagers as they prayed for the sick and showed these "hidden" people the love of God.19
Their hands-on compassion and care has built strong bonds.
"You are my son," one elderly widow told a member of the team. "You are my mother," the young missionary replied.
When GFA World launched its child sponsorship program on several of the islands, the impact on children who'd never before had the chance to go to school before was staggering, resulting in a new birth of hope and purpose.
But Taj and his team weren't done yet. "I began to pray that we may have enough resources of water," Taj said.
The answer to his prayers came: Teams drilled new Jesus Wells, bringing clean water for the first time to thousands of islanders who had only tasted water from filthy ponds, which were contaminated and often caused children to fall sick and even die.
In just two years, the commitment and perseverance of Taj and his team brought new hope and good news to dozens of islands, showering the love of God on everyone they met—including the boat drivers who ferried them from place to place.
Such perseverance is a hallmark of faith-filled national workers who have a deep interest in the well-being and health of their fellow countrymen, propelling them to great lengths to share the wholeness and inner peace they've discovered themselves.
A Native of the Slums Brings Hope
Marty, an indigenous pastor, has dedicated many years to transforming life for the children in the sprawling South Asia slum he was born in. He recalls digging through the garbage as a boy, desperate to find scraps to relieve his hunger. When his alcoholic father died, Marty, who was still only a boy, became his family's provider.20
Having experienced the pain, struggles and addictions that plague children every day in the slums, Marty's eyes tear up as he describes his heartache for children wallowing in extreme poverty, sifting through the trash without hope—like he once did. That's why he and his wife, Prina, are so passionate about serving the slum dwellers.
"Most of these children's parents are my friends. We went to school together," Marty said. "But most of them dropped out. … They started indulging [in] wrong things. … Some of them are even dead. So I started thinking about their children. Why [don't] we do something for their children?"
Every morning, Marty goes on a neighborhood "prayer walk." He prays for each individual by name, and the people in the slum—who embrace him as one of their own—recognize there's something different about him, something almost heavenly.
"[He] is a great example for us," says one of his neighbors. "He does what Jesus would have done. Helping the poor and needy and also loving people … He is always willing to help people. … He knows the situation... He understands better than anyone else."
After serving his neighbors in the slum for 15 years, Marty's perseverance has turned gray skies into blue. He's launched two child sponsorship initiatives, turning others' despair into hope and his own tears into joy.
"Ever since my childhood, the pain and difficult situations and poverty—all those things," Marty says, "when I look back, [they] were … to make me strong and to trust and [have] faith in [God]."
"Pastor Marty … grew up in [this slum] and now is back serving with his family." says GFA World's Yohannan. "Serving here is not easy. … Pastor Marty and many other [national workers] are faithfully serving in the slums."21
Across Asia, thousands upon thousands of national missionaries
toil and labor every day, trekking miles on foot—often barefoot
in extreme heat or cold—to bring hope and good news
to their own people who struggle to see any purpose in their lives
or reason to go on living.
Inspired by Jesus' love for the poor, these workers press on. Even in the face of hunger, disease, dangerous journeys and other hardships, they refuse to give up.
To reach the remotest villages that are too far to reach by walking, national workers turn to pedal power.
In 2020, amidst the pandemic, hundreds of trained workers on bicycles—a compassion crew on wheels—ventured to remote villages across Asia. Working in conjunction with local authorities within pandemic restrictions, with the heart of Christ they provided help for people in desperate need.
Before the pandemic took hold, bicycles were already helping workers to make the most of their time. Rainer saw how he could help even more people, and he prayed for two years for a bicycle so he could encourage and help a cluster of villages nine miles from his home. Months passed with no sign of a bicycle, but Rainer refused to give up hope. Eventually, he got news that he would receive a bicycle, which was provided through generous donations of people in the West. Rainer cried tears of joy. Today, he rides to 10 villages too far away to visit on foot. His bicycle has even become the local "ambulance," transporting sick villagers to the nearest clinic. In short, Rainer and his bicycle have been a blessing beyond all expectations.22
National & Non-National: A Beautiful Partnership
Rainer's story is a wonderful example of how missions-minded people all around the world can link their lives with the lives of national workers on the frontlines, bringing hope into places they could never go. By supporting and sponsoring a national missionary—perhaps by purchasing a bicycle for them, providing monthly financial support, or committing to pray for them—a beautiful partnership is formed, blessing everyone involved.
The unstoppable, never-give-up attitude of national workers like Rainer is a soul-searching challenge to all who desire to bring hope and love to their neighbors in their own communities, wherever they live—a challenge presented in Yohannan's new book, aptly titled Never Give Up.
"A day will come when all your family, friends, responsibilities, possessions, degrees, popularity, all of it will be gone," Yohannan writes. "It's just going to be you and Christ and nothing else. Let the decisions you make today be ones that will reflect well in the light of that moment."
"Let me ask you, when was the last time you actively went out of your way to show the love of Christ to someone, and then to talk to them about His love for them?"
"Do you sense a growing ache for those who do not know the love of Christ?"
"Do you feel a deeper burden to care for the suffering and needy… widows and orphans as He did?"
"The choice not to give up is mine. It is also yours."23
As we ponder how to personally convey God's love in word and deed to those within our spheres of influence, we can also partner with a national missionary who is dedicated to being an unstoppable force for compassion in areas of the world we could never reach on our own. Our prayers and financial support of their commitment to bring practical help and hope to people desperately in need is one way we can never give up in the effort to share good news to a world in need of Christ's love.
How Your Donations Are Applied
We value your donation and are committed to good stewardship of the funds entrusted to us by our friends and donors. All gift options represent GFA's actual ministry efforts to meet the diverse needs of individuals and communities. Regardless of particular preferences, monies are raised for ministry purposes, and GFA retains discretion to use donated funds in any manner that serves GFA's charitable objectives.